Stay Here
CAMPGROUND & RV – STAY JUST MINUTES FROM THE HOT SPRINGS
Riverside camping for RVs and tents is available at Nakusp Hot Springs Campground above the soothing sound of the beautiful Kuskanax Creek. We have power services for RVs and are steps away from our natural mineral soaking pools. A SaniDump is just 15 minutes away in Nakusp.
We offer thirty RV power sites, eight tenting sites, three overflow sites, and for your convenience there are four potable water sites spaced evenly throughout the campground. There are also four accessible sites with power and water that are closer to the Hot Springs Building. We have clean, centralized washroom facilities with hot showers that are open 24/7 during the camping season.
All sites in the Campground proper have fire pits and grills and fires are permitted except when fire bans are in place. Firewood is available for your convenience.
Book early — the sites are popular all summer and fall. The campground is open from May 1st to mid October, weather permitting.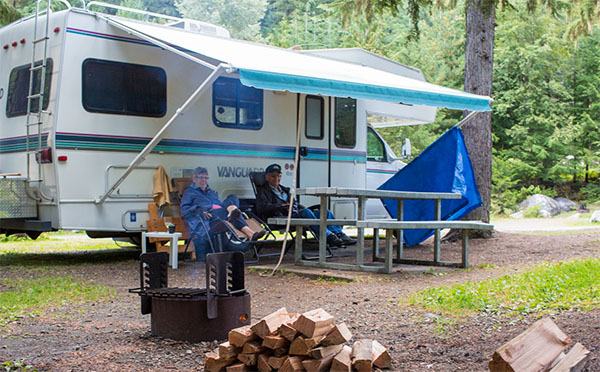 Reserve your site today! Call: 1-250-265-4528 Click HERE to open a map of our campground sites.